Magnetic Wall Planners

A planner is a necessity for any homeoffice, but who says you need a paperback planner anymore? Instead of buying a new planner every year or when you've used up all of your pages, why not instead invest in a dry-wipe glass planner that never runs out? With your new home office planner on your walls, where you can always see it, you'll no longer need to flick through the pages in a hurry when you're on an important business call, just look straight to the board on your wall.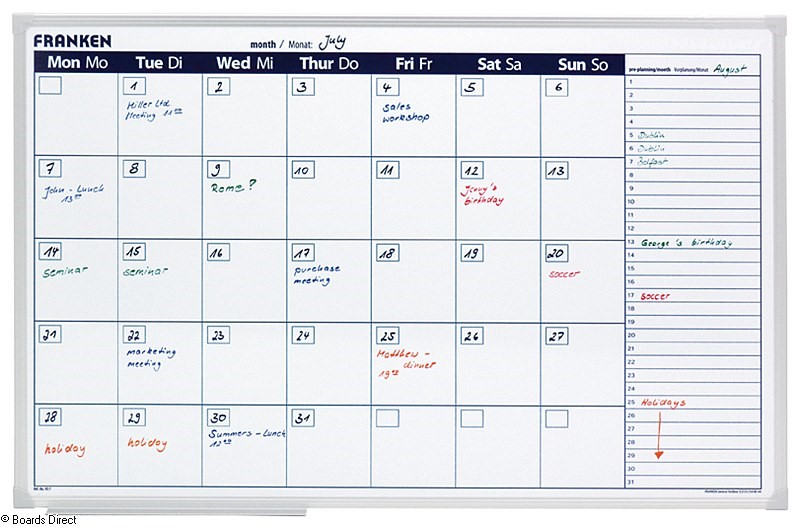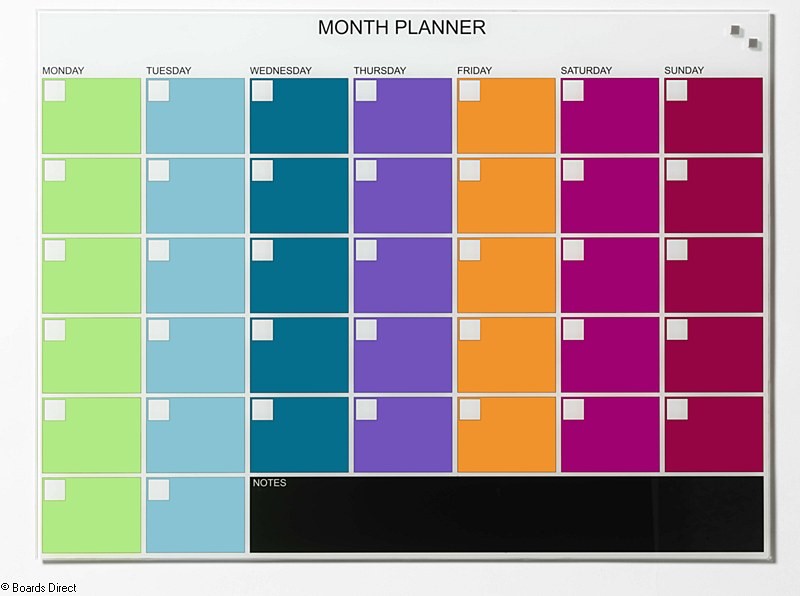 If you schedule a lot of meetings or have tasks spread out over the month, a monthly glass planner may be the easiest and most effective planner for your work. At Boards Direct we offer a vibrantly coloured monthly planner. With several colours representing the days of the month, your eyes won't get lost in large blocks of black and white text. With a section for notes, you can make any personal notes you need.
Our monthly planners are exceptionally useful for home office use, as they allow you to balance your home and work life and appointments in one place, in your own working space. Browse our colourful magnetic planners, and keep all of your events organised.
If you require a smaller planner, where you can note all of your upcoming events by each week, then we also offer a sleek glass magnetic weekly planner. With its smooth surface, bold colour blocks, this office board planner will blend in nicely with any room or office. This board features a large space for additional notes and attaching monthly receipts, pay slips and tickets to with board magnets.
Take a look at our superb range of weekly office planner boards. Don't forget to use your magnet sets to secure all of your important notes and documents.
Workstation Boards
Workstation boards are an incredibly good way to keep track of your notes. When noticeboards are placed on the wall, whether it's at home or in an office, you can often forget to move around the room to check what notices are on the board, and that's why workstation boards are great.
Small, compact white boards are neat, tidy boards, that don't take up much space and are visually pleasing. They assist to keep your desk tidy and free of all the notes that can be lost in various notebooks and buried under folders and documents on your desk. As these boards can be tucked neatly above your desk surface, it can be placed
right in front of where you're working, so you'll never forget to check your notes again. Take a new approach to keeping your desk tidy with these compact boards today.
For those of you that take a lot of notes, and who tend to attach items such as tickets, payslips, and receipts to your walls, a multipurpose workstation board would be highly suitable for you. With one of these boards, you have a glossy whiteboard to scribble all of your notes onto with ease, and for all your paper attachments and important documents, you'll find the other half of the board works as a cork board, ready for you to pin straight into. Browse our larger workstation boards to keep all of your notes arranged at your desk with the ease of being able to move them around and place them creatively.
Compact Boards
Every home office needs a board of some sort, whether it's felt, cork, glass or a standard whiteboard. If your home office is of a relatively small size, a smaller board will be a much better fit for your walls. You can even spread out multiple boards across several of your walls, you don't have to loose out on workspace just because you work from home! At Boards Direct, we offer several board types to suit your office, why not take a look at our range of boards that are perfectly sized and suitable for your home office.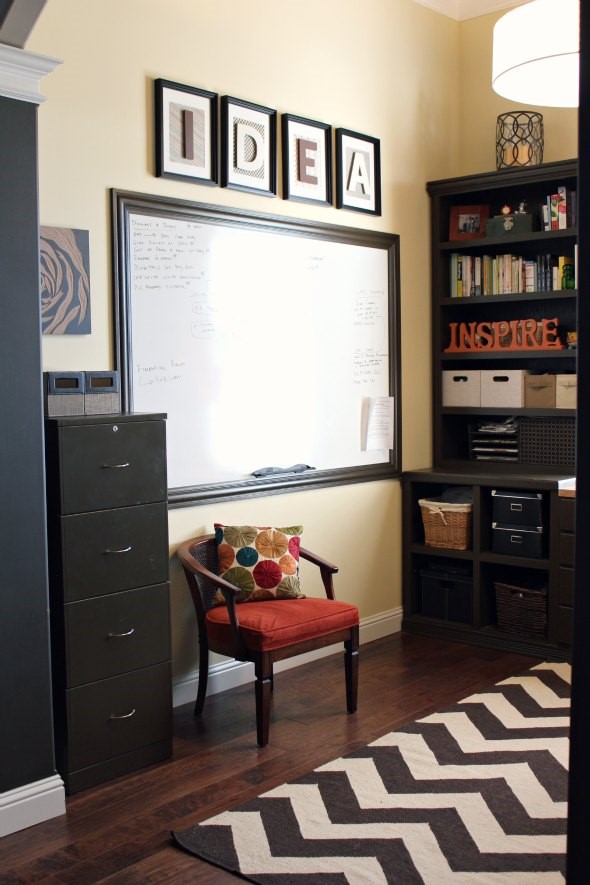 Multiple Purpose Boards
If you have the space in your home office, multiple purpose boards can be great. With a rotating whiteboard/cork board, you can spin the board around to suit your needs. With four different sides, you'll have plenty of space for all of your notes and important documents; you might even have space for your personal photographs to brighten up your office with a homely touch. Because of the boards being placed against each other on a floor stand, your walls don't have to be filled with boards if you prefer to keep paintings and frames on your walls. The rotating board can be placed into a corner of the room, which will take up very little space. If our rotating multi purpose board sounds as if it would suit your room, why not check it out today.
Another space saving option for your home office is a half and half multipurpose board, which can feature a whiteboard with a felt board or even a corkboard. These boards are huge space savers and yet still allow you to have both of the board types that you desire. With various board types available, including cork, whiteboard, and felt, you can use these boards for keeping various types of notes. With the board including two surfaces, and saving space instead of having a board of each kind, this board type is perfect for small home offices. Find a board combination that will suit your home office today.
Regardless of the size of your home, and your home office itself, we have many boards to suit the size of your room. With many types of boards such as workstation whiteboards, compact boards and whiteboard planners; you have a huge selection of board types to suit your home and the type of work you do. Our boards allow you to keep all of your work related documents and notes together, along with your personal notes so that you'll always know exactly when you have spare time in the month to book in any other work related meetings or courses.