Whiteboards are useful tools for business and education purposes. Sometimes, a range of whiteboard accessories is necessary to take your planning further. That's exactly what we have here at Boards Direct.
This post will highlight some of the must-have accessories we have for sale at Boards Direct. Don't forget that Christmas is around the corner, and with our range of accessories you're sure to find something suitable for the loved one in your life - with free delivery on all orders over £25!
Whiteboard Accessories
We've put together a small list which highlights some of our favourite accessories for your new or existing whiteboard. All of these items are available from our online shop.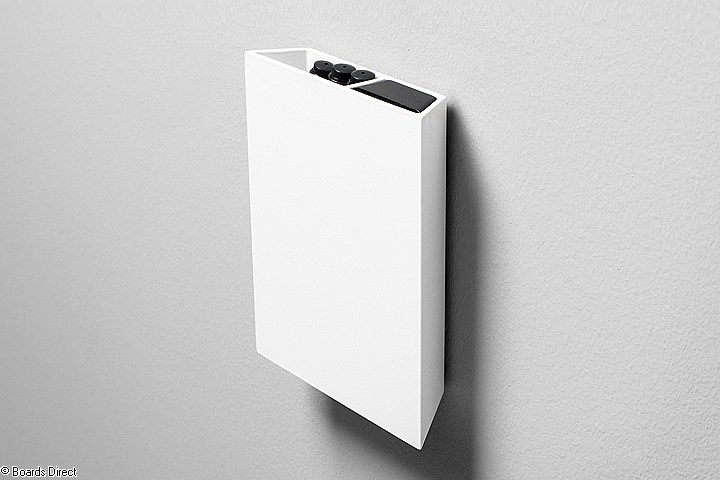 Price: £108.00 Inc. VAT
£90 Exc. VAT
This innovative and unique-looking accessory holder will store your pens and eraser and will stick to your magnetic whiteboard.
Press the holder lightly and the whiteboard eraser will pop up.
The Air Pocket Acessory Holder is designed for Air whiteboards but suits our whole range of writing boards.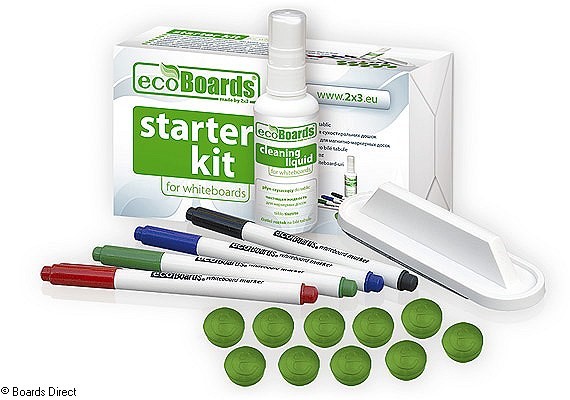 Price: £9.54 Inc. VAT
£7.95 Exc. VAT
Perfect for magnetic whiteboards, this accessory kit contains everything you need to maintain and use your whiteboard.
In this kit you'll get:
- X4 assorted whiteboard pens
- X1 magnetic eraser with 5 replacement pads
- X10 20mm diameter magnets
- 50ml spray cleaner
This kit is the must-have purchase for any magnetic whiteboard.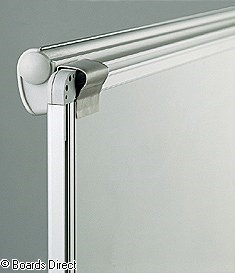 Price: £19.14 Inc. VAT
£15.95 Exc. VAT
The beauty of this product is that it allows your to turn your ordinary whiteboard into a flipchart!
Comes with spring clips to hook onto wall-mounted whiteboards or noticeboards.
Once hooked on, you can hang your A1 or Euro sized flipchart pad (which we also stock!) and you'll have another way of presenting.
When you're done, simply remove the hook and return your whiteboard to its normal state!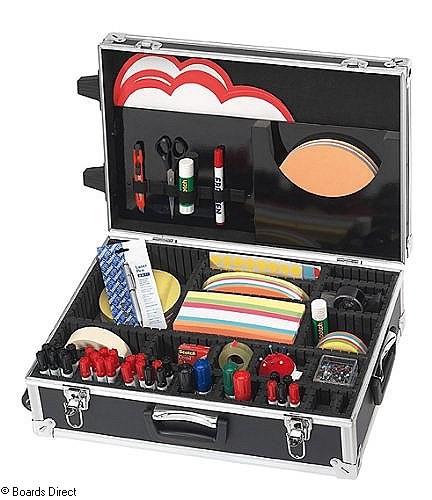 Price: £330.00 Inc VAT
Exc. VAT £275
This case contains everything you need for an effective presentation with the use of the whiteboard.
In this case you'll get:
- X500 presentation cards
- X250 9.5cm assorted coloured circles
- X250 14cm assorted coloured circles
- X250 19.5cm assorted coloured circles
- X250 11x19cm assorted coloured ovals
- X20 9.5x20.5cm assorted coloured rhombus
Also included within this kit is 8 jumbo markers, masking tape,glue sticks, a cutter, a laser pointer along with several other items ideal for presenting.
This case is made from robust aluminium and has wheels with a pull up handle for easy transportation.
Traditional Wooden Eraser MINI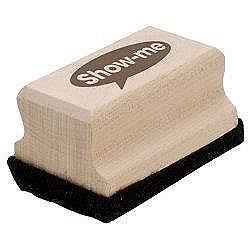 Price: £2.38 Inc. VAT
£1.99 Exc. VAT
This traditional wooden eraser is great for the classic look with a modern functionality. With washable felt, this eraser will provide you with many uses.
They're also available in larger sizes if you're looking to mix and match.
We have many more items to choose from on our whiteboard accessories page.
Boards Direct offer free UK delivery on all orders over £25, and a free bar of Green & Blacks when you spend over £75!